Some families know a great deal about their roots; others know very little. This site is an attempt to record what I've learned about our family history. In these modern times, families tend to be scattered all over the country, if not the world. One of the goals of this web site is to help our family stay connected even though we live far apart.
Just click on the MORE GENEALOGY INFORMATION ~~This is a great site to help in your search for your ancestors. It is the Find a Grave site. Very useful and helpful site.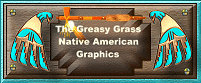 Many of my graphics come from The Greasy Grass website. A great American Indian and western graphics site! Just click on the Greasy Grass Logo and be transported to a great site!