My pawpaw & Mawmaw and their family. George W. Sechrest (my grandpa & Ida (Williams) Sechrest (my grandma) with their children. The girl being my mother. This picture was taken about 1938.

George & Ida Sechrest and family a few years later. Abt. 1942-43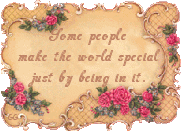 This is my grandma and grandpa from my mother's side. I called them mawmaw and pawpaw all my life. My Pawpaw passed over in 1982 and Mawmaw followed him four years later.
I owe everything to them. They were my teachers from an early age. My Mama taught me morals and how to love. She was and always will be a very special Angel in my heart.
My Pawpaw was a great man. He knew the ways of nature and taught me how to read the signs of what nature teaches us. He also loved to play the fiddle. He taught me to tap dance at a very early age.

Mary (Wood) Sechrest was my Pawpaw's mother. She was born 1868 Wayne county Missouri and died 1950 in Shannon county Missouri. Sadly to say, she died a few years before I was born. I would of really liked to of known her. My mom has told me many stories and shared her memories she has of my Great grandma Sechrest.