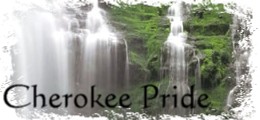 When you visit my page for the first time...please click on my GUEST MAP and place your pin. It is simple to do and only takes a second. I enjoy seeing where everyone is from. Wado (Thank-you)
"O'SIYO"
The most important thing that determines who we are is on our insides, not our outsides. If we are Indian inside, that's all that matters. Being Indian means to think right, to be spiritual and to pray. Feathers and beads don't make us Indian. Being Indian means to have a good heart and a good mind.
Great Spirit, today, let me think Indian.

Dear Ancestor,

Your tombstone stands among the rest;
Neglected and alone.
The name and the date are chiseled out
On polished, marbled stone.

It reaches out to all who cares
It is too late to mourn.
You did not know that I exist
You died and I was born.

Yet each of us are cells of you
In flesh, in blood, in bone.
Our blood contracts and beats a pulse
Entirely not our own.

Dear Ancestor, the place you filled
One hundred years ago
Spreads out among the ones you left
Who would have loved you so.

I wonder if you lived and loved,
I wonder if you knew
That someday I would find this spot,
And come to visit you.

~~~~Author Unknown~~~~~
Please, don't forget to sign my guestbook at the bottom of this page. Or just sign my Cherokee Pride guests at the top of this page is on the navigation bar. Wado!!!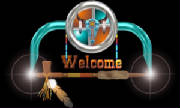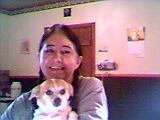 Welcome to Cherokee Pride This is me and my best friend, Baby. I hope you will enjoy this site. I have a mixture on this site, but it is mainly about my family.
Free Native American Music 24/7

Please check out this wonderful site. Many links included on Thunder-Foxe's site. About anything to do with the Cherokee People.

WISDOM
The Beauty of the trees,
the softness of the air,
the fragrance of the grass,
speaks to me.
The summit of the mountain,
the thunder of the sky,
the rhythm of the sea,
speaks to me.
The faintness of the stars,
the freshness of the morning,
the dew drops on the flower,
speaks to me.
The strength of fire,
the taste of salmon,
the trail of the sun,
and the life that never goes away,
They speak to me.
And my heart soars.
~Author~Chief Dan George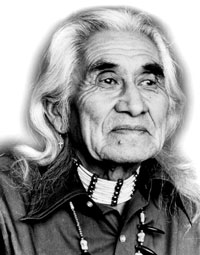 CHIEF DAN GEORGE
Chief Dan George was a gifted actor and chief of the Tsleil-waututh Nation in Burrard Inlet, British Columbia. He was born 'Geswanouth Slahoot', on July 24, 1899, in North Vancouver, British Columbia and died September 23, 1981, in Vancouver, British Columbia.
CONNECTED LINKS

GINGER'S NATIVE AMERICAN IMAGES